Yorkville Work Injury Treatments for Back Pain, Carpal Tunnel Syndrome and Other Ailments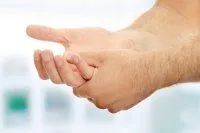 No one likes when you are on the job and something goes wrong, and the next thing you know you're in pain and cannot finish the job you are called to do for that day. Regardless of the severity of the injury, receiving the right treatments is a top priority. Here at Advanced Physical Medicine at Yorkville, we understand how important it is to get you back to work. For that reason, we at Advanced Physical medicine at Yorkville provides the best care to help your body heal from the inside out.
Three Common Causes of Work Injuries and How to Treat
Nowadays, with more people working at a desk, either at home or at an office, one of the most common work injury causes is carpal tunnel. Carpal tunnel syndrome is when the median nerve that whether in the hand and wrist becomes compressed and, as a result, it causes pain throughout the hand, wrist, and even up to the arms. It can be very painful and may prevent the worker to continue working for some time. Believe it or not, treatment for this syndrome doesn't take too long. Our Yorkville Chiropractor can provide spinal adjustments and manipulation to help relieve pain and correct any imbalances to the spine.
Another common work injury is back and neck pain. Pain in these areas are due to either pulled muscles from overexertion, or not using good posture movements while on the job. For those doing manual labor or some form of physical activity at work, lifting things too heavy by yourself or above your shoulders can result in severe back injuries. Our chiropractor at Yorkville works to align the back with several types of treatments that are noninvasive and drug-free. We use chiropractic adjustments, diagnostic imaging, and also patient education on how to best treat back pain. Massage therapy is a great option that we offer as well.
One last common cause of a work injury accident injury is simply physical or mental fatigue. This can be one work injury that goes undetected at times; it can also cause the most damage. Working while mentally or physically fatigued is a dangerous problem. Being fatigued, weather physically or mentally can impair your judgment. A person who is working during these times is not focused on their job and can either end up hurting themselves or their coworkers. Many people tend to have headaches or migraines as a symptom. Here at Advanced Physical Medicine of Yorkville, our massage therapist can help relieve these tensions and relax any pressures, while healing the body through therapeutic massage.
Schedule an Appointment Today!
If you are experiencing any one of these work injury problems, contact Advanced Physical Medicine of Yorkville at (630) 239-7284.