Yorkville Chiropractor Conveniently Located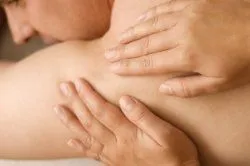 Welcome to Advanced Physical Medicine of Yorkville. Our integrated practice provides non-invasive pain management, injury rehabilitation, physical therapy, massage therapy and internal medicine. Our Yorkville chiropractor, Dr. Brian D. Berkey, is passionate about unlocking the body's inner ability to heal. Together with our board certified internist Dr. Farah Malik, Dr. Berkey works closely with patients to provide non-invasive, all-natural treatments for auto accident injuries, chronic pain conditions, and work injuries. While a chiropractor in Plano may not be able to provide such a wide variety of integrated care in one place, doing so is part of our commitment to excellence.
We are conveniently located to provide Sandwich, Plano, Aurora and Oswego chiropractic care. Patients choose our practice because of our integrated approach to care. Our large, spacious wellness center allows us to offer advanced chiropractic techniques, including spinal decompression therapy. A chiropractor in Sandwich may not have the space to offer physical therapy or massage therapy, but at Advanced Physical Medicine, we are able to provide both of these services in our center.
Chiropractic Care for Yorkville, Sandwich, Aurora, Oswego and Plano
A chiropractor in Aurora, Plano, Sandwich or Oswego may not be equipped to offer the unique combination of chiropractic care and internal medicine like our Yorkville chiropractic center does. Dr. Berkey and Dr. Malik work closely to combine the best in holistic healing, preventative medicine and chiropractic care. This integrated approach to care makes a big difference for the health and well being of our patients. For example, by combining holistic treatments with spinal adjustments and physical therapy, we are able to speed the recovery process for victims of a car accident or workplace injury.
Our goal is to help every patient heal as quickly and safely as possible. We also support our patients' long-term wellness goals. Through preventative medicine, we can help manage and even reduce the risk for chronic health conditions like hypertension and diabetes. These important services are unique to our office and may not be available from a chiropractor in Oswego. Regular chiropractic adjustments help maintain proper spinal alignment, which reduces the risk for injury, illness, and fatigue.
In addition to pain management, injury rehabilitation and preventative medicine, we also offer the Doctor's Weight Loss Solution. We are the only chiropractor in Yorkville to offer this revolutionary weight loss program! This program is ideal for long-term weight loss and weight management. It is fully customized to each patient's weight loss needs. Dr. Malik and Dr. Berkey support our patients each step of the way. A chiropractor in Plano may offer a weight loss program, but you won't find any as successful as the one we offer!
Many of our patients come to us feeling exhausted, struggling with chronic pain or frustrated with an inability to lose weight. After just a few weeks of care at our clinic, our patients have more energy, are more active, and are once again living life to the fullest.
Ready to start living your life? Call our Yorkville chiropractic center today at (630) 239-7284!